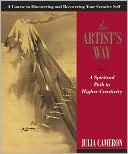 I've spent the past few months in a bit of a funk... maybe slightly depressed, but mostly discouraged. Over a lot of things, one of which being my writing, but there's also a lot of life stuff mixed in there. With summer upon us, my kids are home and there's a part of me that things, "great... one more thing on my plate." Which is a bad attitude to have, I admit. But the thing that inspires me is that my girls are creative creatures like me. One is an aspiring author who's working on her first book. The other is an aspiring singer, who, despite her failure to understand that the notes go with words, writes a new song every day. In their creativity, I've realized that I can rediscover my own. I thought it would be fun to do some of the exercises from
Julia Cameron's The Artist's Way
.
About ten years ago, I joined a group of writers who spent a summer working through the book. It was hard for me to get through, mostly because I had a little one, and finding child care was hard. I had to drive an hour each way to drop my daughter off at a sitter's, and the group met about 30 minutes away from the sitter. It was a lot of driving and a lot of early mornings. But I learned a lot and really enjoyed learning from those gals.
Working through the book, I unlocked a lot of the creativity that had been stifled over the years. It brought back some of the childlike joy and wonder that happens when you take away your creative boundaries. And the stress of life that had been driving me crazy felt a little more manageable. So here I am again, deciding to feed that part of my soul that makes me smile inside even when the outside is a mess. 
When I brought out the book to see how to structure exercises to do with the girls, I realized that it would also be fun (and valuable!) to invite some friends along for the journey. So... here is my invitation. If you're in the Denver area, and would be interested in joining others who want to explore their creative side, we'd love to have you join us. I haven't set a date or time, but here is the one thing set in stone... kids are welcome. I remember how hard it was to drive an hour out of my way to drop the kid off, drive another 1/2 hour to group, 1/2 hour to get my kid, then another hour home. Even now, finding babysitters is a huge challenge for me. So I want to encourage other moms in need of a creative jumpstart by welcoming their children. Will it be chaos? Probably. But I'm also going to get my kids involved, and maybe we can also encourage creativity in our children.
If you want to rediscover your creativity, join us! And if you want to come over and hang out, we'd love to have you. If you're too far away, you're invited to be a part of the journey online, and I'll post about what we've done each week.